Your Local Kentucky Body Shop at Jeff Wyler Fort Thomas
We've all been there... you walk out of the store, heading to your car, and you see it: a big dent, scrape, or ding on your car from a passing vehicle, a runaway shopping cart, or flying debris. Accidents happen, even to good people who take great care of their cars.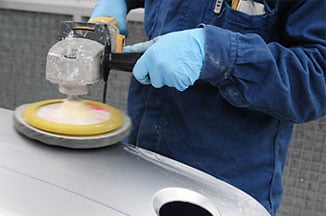 The only way to completely protect the new Chrysler, Dodge, Jeep, or Ram that you just bought would be to surround it in a giant bubble--but that's no fun. That's why the Jeff Wyler Chrysler Dodge Jeep Fort Thomas body shop offers expert auto body repair services for everything from a chip in the windshield to major collision repairs.
We offer quick fixes for paint and body repair of all types. Common repairs include buffing out small paint scratches or re-painting larger/deeper cuts, dent removal and paintless dent repair, auto glass replacement for your windshield or windows, and the ever-important rust repair. Not only will getting these common problems fixed lengthen the life of your car, it'll keep you safer and happier.
Drivers in Fort Thomas, Fort Mitchell, Highland Heights, Newport KY, and Cincinnati OH seeking auto body and collision repair will find convenient, compassionate care at Jeff Wyler Fort Thomas. We have highly-trained technicians with many years of experience, high-quality auto parts for anything that needs to be replaced, and we'll even generate an accurate appraisal before we get started. We'll work with you and your insurance company to assist in handling your claims, and help you get the absolute most for your money.
So if you find yourself in a jam, with a dent or a ding, don't stress--just call us.